Inclusive Fashion For Disabled People
Like most able-bodied Singaporeans, LASALLE Fashion Design and Textiles graduate Elisa Lim, 23, paid little thought to the everyday task of getting dressed.
But in 2015, she was approached by a doctor to tailor clothes for bedridden patients. This sparked her interest to create functional, easy-to-wear clothes.
"I met an accountant who was earning a rather decent pay, and it shocked me when she told me the hardest part of her day was going to the toilet!" she recounts.
From then on, Elisa realised adaptive fashion for disabled people was "a real need". Roping in fellow students Ethrisha Liaw, 23, and Caroline Justine, 22, they decided to create adaptive wear label, 1000mph, for their Final Year Project.
Rented wheelchairs to understand a user's experience
To create more functional and inclusive clothes for wheelchair users, the designers first needed to understand the problems persons with disabilities faced.
However, Elisa and Ethrisha felt gathering feedback from disabled people wasn't enough. They needed to understand the everyday experience of their users.
"We rented wheelchairs and spent a day out at Gardens by the Bay. And we realised the fabric of the chair is so hot!" Elisa laments.
Nodding in agreement, Ethrisha adds, "You can also easily get pressure sores from sitting all day, so breathability and thermal comfort was key. Therefore, we decided to use organic textiles and natural fabrics because it's cooler and smoother on the skin."
Creating clothes which were functional and aesthetic
Clothes in existing markets limit most people with disabilities. They're usually made to choose between functional, "boring, hospital-like" clothes and ill-fitting, off-the-rack outfits.
As designers, both Ethrisha and Elisa recognised how fashion plays an important part in expressing an individual's identity.
They didn't feel it was right people with disabilities were made to give up their freedom of self-expression in favour of functionality.
"It's through having the choice of what clothes to wear, we experience ourselves," Ethrisha explains. "We didn't just want to create functional clothes, but aesthetic outfits as well.
However, the pair were quick to point out that
1000mph
isn't about 'helping' disabled people to be 'normal'.
Instead, it's about recognising how there are barriers of entry persons with disabilities face, and creating products which allow them to be treated in a non-discriminatory way.
"The simple task of choosing your clothes gives dignity to people with disabilities. Being able to do 'normal' things easily, I think they deserve it as well," Ethrisha adds.
With clearer design objectives, the pair started looking for models for
1000mph
.
Stalking Facebook groups, they reached out to wheelchair users and chanced upon Stephanie, 32, who has muscular dystrophy.
How the clothes work
Different pieces were measured and made to fit each model perfectly. Stephanie has her caregiver dress her as muscular dystrophy has resulted in weakened muscles, soft bones and a loss of fine motor skills.
To make the process of dressing easier, Stephanie's dress has a front-facing zipper which unzips sideways and a jacket with magnetic clasps (pictured below).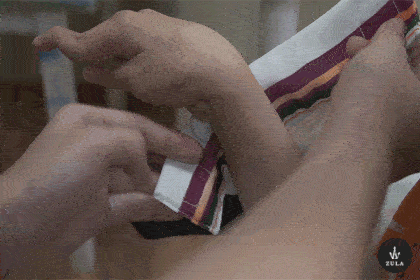 Her pants have zips across so it flaps open when unzipped, meaning she doesn't have to maneuveur in and out of them (pictured below).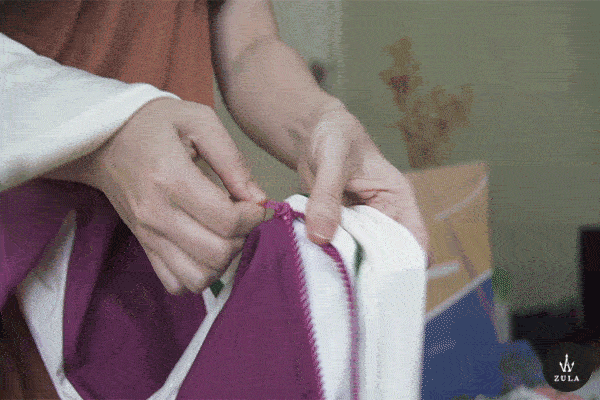 This allows her caregiver to get her in and out of clothes more easily and she wouldn't have to be "put in a certain awkward position".
"My bones are really soft," Stephanie demonstrates by flexing her ankles. "Sometimes, when I'm just putting on a shoe I can twist my ankle. I actually did… like three weeks ago."
Also, because the dress fits perfectly, Stephanie's dress strap doesn't fall off her shoulder anymore.
"Imagine you're out to dinner with your friends and your strap drops. It's awkward to ask for help, especially since most of my friends are guys!" she bemoans.
As much as people with disabilities have adopted certain dressing patterns, 1000mph's designs reduces their struggle. It provides people with disabilities the ability to get dressed with relative ease.
Reception Toward 1000mph
Though 1000mph's debut at the LASALLE graduate showcase garnered much positive response from publications such as TODAY, the Straits Times, and Lian He Zao Bao, Ethrisha and Elisa derived the most satisfaction from their models' response.
Right after the runway show, Elisa recounts how Stephanie broke down crying. "I was shookt! I asked her 'What's the matter?!' When she finally stopped crying she was just saying she was really touched."
Laughing at the memory, Stephanie concurs, "Yah! Me being on the runway is a big step for persons with disabilities. We finally have a voice in fashion!"
In a more sombre tone, she adds, "I'm so glad Elisa and Ethrisha have done this because finally, someone thinks of us, of me."
Afternote: With the conclusion of their graduation project, Ethrisha has gone on to pursue textile therapy, while Elisa continues to create adaptive wear under her label Will&Well.
–
Original article published on ZULA, by Cheryl Chiew